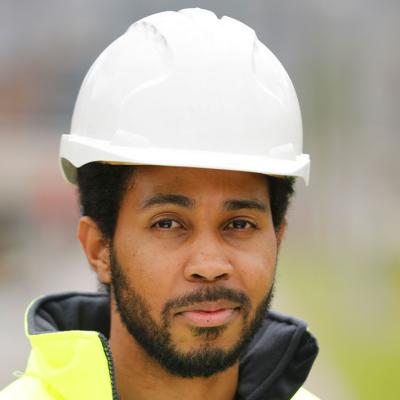 Ernest Etim
Design Engineer
After graduating with a BEng Hons in Civil Engineering from the University of Nottingham in 2012, I enrolled at Nottingham Trent University, where I earned a MSc in Structural Engineering with Management in 2014. I spent that summer working as an industrial trainee engineer for Julius Berger Nigeria Plc., where I was involved in the laboratory testing of materials for quality control and site supervision on multiple construction stage projects in Akwa-Ibom state, Nigeria. Some of the more noteworthy projects included the construction of Uyo International Stadium, Ibom Tropicana Entertainment Centre in Uyo, Abak Bridge and the A342 Ikot Ekpene/Uyo Road dual carriageway construction project.
The following year, I gained a PgDip in Sustainable Energy from Trinity College Dublin and joined ROD as a graduate engineer. During the two-year graduate programme, I contributed to projects across a range of markets, including water, transportation, research and development and bridges. I also spent nine months working as an assistant resident engineer on the construction stage of the N56 - Mountcharles to Drumbeigh scheme in Donegal. The experience gave me a better appreciation of the central role engineers play in all phases of a road project - from design to handover - and just how much our work impacts on society.
I now work as a design engineer within the transportation team, where I am building experience by contributing to the design services on a range of transportation and civil engineering-related projects.
I am currently involved in the design investigation options, commissioned through TII PMG Phases 1 to 4, for the N13 Bridgend to County Boundary Route Improvement Project in Donegal. The project aims to improve the N13 from west of Bridgend to the border with Northern Ireland (Derry) where it connects to the A2 Buncrana Road. 
I am also involved in a Solar Farm Grid Connections project for Energia Renewables. It involves the provision of 110kV connections to two proposed solar farms in north Co. Dublin (Fingal) and Co. Meath from existing ESB 220kV substations at Huntstown and Ballycoolin respectively. The work is being undertaken by Energia Renewables on behalf of the ESB and Eirgrid, who will energise the connection and own the infrastructure when it is complete. The connections will extend the electricity transmission grid to the new substations required at the proposed solar farms. Increasing renewable power supply to the national grid cannot be achieved without grid connections such as these.
I am also involved in the preliminary design stage of BusConnects-Project D, comprising the Ballymun, Finglas, Kimmage and Ringsend to City Centre bus corridors. The project will provide corridor improvements through enhanced footpaths, cycling facilities and landscaping. My role on the project involves liaising with utility providers, engaging with the client and other engineering disciplines and traffic assessment / modelling. The experience has given me a valuable insight into the processes required to progress a project through the preliminary design stage.